MIX hosts the first European continental PoP of Islalink's Ionian submarine cable
On the global connectivity map, Italy can be a digital bridge between Europe, the Middle East and Asia. Thanks to its geographic position in the middle of Mediterranean. The activation of the first European continental PoP of Islalink's Ionian submarine cable, which has found its place in the Milan Internet Exchange (MIX) on the Caldera campus in Milan, should be seen in this perspective. MIX is already the main Italian Internet network interchange point (IXP), and among the first in Europe in terms of traffic carried.
Islalink is a neutral provider based in Madrid. Its Ionian communications system is based on 320 kilometers of undersea cable that "lands" on one side in Greece, in Preveza, and on the other in Italy, in Crotone. Two fiber optic rings connect the cable's landing points with Milan and Rome in Italy and, in Greece, with Athens and Thessaloniki.
For three-quarters of its length, the cable is placed at a depth of over 1,000 meters. The remaining quarter is below the seabed, to avoid man-made accidents. Due in part to these design, Islalink estimates that Ionian can safely remain in operation well beyond the classic 25-year lifespan of an ordinary submarine cable. Ionian's transmission capacity is based on 24 pairs of DWDM fiber optics and is equal to more than 15 Tbps with current technologies. Looking forward, Islalink estimates that the cable can reach over 360 Tbps of capacity.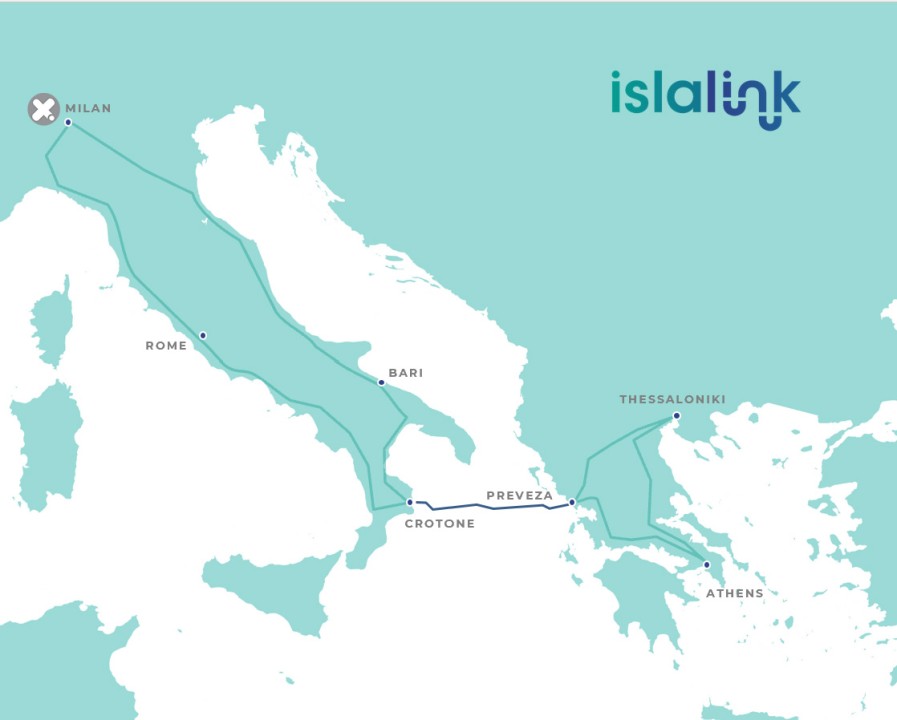 Esther Garcés, CEO di Islalink, says that the activation of a PoP at MIX in Milan is a natural step in bringing Islalink's services to the international markets. Particularly because there are already several Italian and foreign carriers, OTTs and providers within the Caldera campus.
Ionian, in fact, was also created to bridge the international connectivity gap that plagues peninsular Greece: there are only two submarine cables connecting it to Western Europe. The main greek connectivity hub is Crete, because the island is a sort of intermediate transit station between Europe and the Middle East and then Asia.
However, Greece's economic development needs a more advanced, high-performance infrastructure that can easily - and directly - serve the main centers of the peninsula, primarily Athens. This has prompted the concentration of public and private investment on the development of new international connections. Among them, Ionian.