DESI rankings leave Italy in a bad digital shape, but in the country's economic scenario ICT is growing better than it seems
Broadband (and ultrabroadband), digital skills, Internet users, Digital Transformation in private companies, digital public services development. These are the most important indicators contributing to each EU country's final score in the Digital Economy and Society Index. A score that, in the study's 2020 edition, doesn't put Italy in a good position. Unfortunately, exactly when the country is trying to restart its digital side thanks to PNRR Recovery Plan.
To be clear, this does not mean that digital Italy is worse than before. For the last five years, its digital competitiveness has been growing more than EU average. But the country is still behind in DESI rankings: at 25th place (on 28 total). Only Romania, Greece and Bulgaria did worse. And the country is quite distant from DESI top performers: Finland, Sweden, Denmark, The Netherlands.
Why? First of all, and historically, for a lacking fixed broadband infrastructure. Italy performs well (8th place in the EU) for generic fixed line connectivity, but badly (14th place) for fixed broadband and very badly (22nd place) for fixed ultrabroadband (more than 30 Mbps). And even when broadband is available, it is used by a relatively low fraction of households: just 60%, compared to an EU average of 80%. It certainly does not help that in Italy most (80%) available broadband lines use xDSL technology, which is relatively low-band for today's standards. Italian mobile broadband is on the other hand very good, one of the best in EU, but it can't (still?) compensate what the country is missing in fixed connectivity.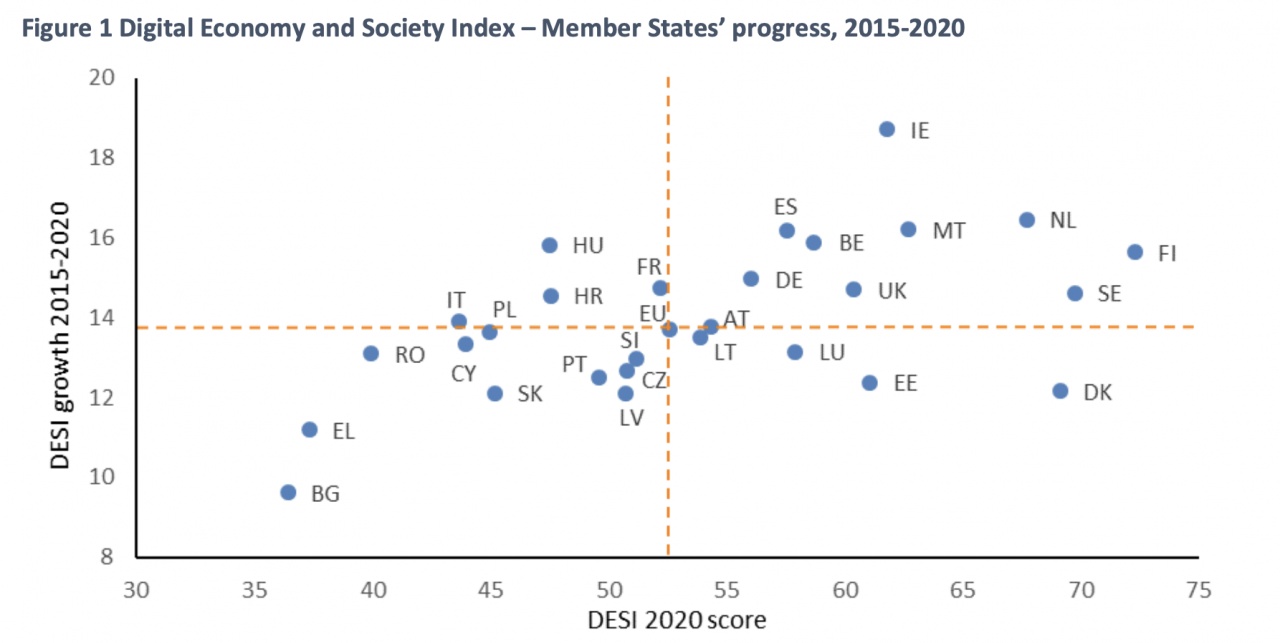 Another big issue for digital Italy is a generic underdevelopment of digital skills. Italy is regularly one of the worst performing country in DESI rankings regarding digital competences gained and put in use by citizens, private companies and Public Administration. DESI Digital Intensity Index, which rates how much digital technologies are used in private companies, puts Italy at 21st place in the EU. Just 15% of Italian companies use cloud services "of medium-high complexity", 10% sell online on their websites, 7% use Big Data analysis. In every specific ranking, Italy is closer to the bottom of the list than to the half.
Can we do better than this? Are we better than this? Partly, yes. Statistics can be misleading. And looking at many very specific rankings is like looking at many trees without considering the forest they're part of. In several important DESI indicators Italy performs well - for example, in the use of Open Data or in how PA digital services interact with those of other EU countries - and the country has a very important role in the EU data market. This is worth 72 billion euros and 75% of that is made by just six countries: United Kingdom, France, Germany, Italy, Spain, The Netherlands.
Most of all, what in Italy has changed for the better is how important digital technologies now are in shaping Italian companies of any sector. ICT Italian market now accounts for 9% of the total Italian workforce. And the country invested, in 2017, something like 2,4 billion euros in ICT R&D. Only France, United Kingodm and Germany did better. Things have still to improve, yes, but at least they are taken seriously.