According with official data updated to 2022.
The Italian Infocamere 2022 3rd Quarterly Report gives us the total number of startups in Italy. To be clear, no numbers exist that cover the precise size of the European startup market. Every country and every data aggregator have his definition of what a startup is, but in Italy there is an official register (Registro delle Imprese) with a special section for "innovative startups".
Innovative startups are companies established for less than five years, with annual turnover less than five million euros, unlisted, and possessing certain indicators relating to technological innovation provided for by national legislation. Among the over 389,000 companies established in Italy in the last five years and still in active state, 3.8% are innovative startups at the date of the report.
According to data, as of 1 October 2022, Italy has 14708 innovative startups, with an increase of 0,6% compared to the previous quarter. The total share capital subscribed by startups is up, compared to the last quarter (+66.5 million euros, +6.6% in percentage) now settling at 1,077,517,555 euros for an average share capital of 73,260 euros.
Business sector distribution
As regards the distribution by business sector, 76% of innovative startups provide Services to Businesses (in particular, software production and IT consultancy, R&D activities, information services activities), 15.5% work in Manufacturing, while 3.1% work in Commerce. In some economic sectors, the effect of innovative startups on the total number of new joint-stock companies is significant. The 10% of all new companies operating in the business services sector are innovative startups; for Manufacturing, the corresponding percentage is 6.6%. In some sectors, the presence of businesses innovative is particularly high: 43.6% of the new companies in the computer production is an innovative startup, 47.1% of those engage in software production, and even more than 72% in research and development.
Looking at the composition of the corporate structures, innovative startups with a female prevalence – i.e., in which the shares of ownership and administrative positions are held mostly by women - are 2,000, 13.6% of the total. But there are 6,421 innovative startups in which at least one woman is present in the shareholding structure. There are 2,636 innovative startups with a young majority (under 35), 17.9% of the total.
There are 550 innovative startups with a foreign shareholder structure, 3.7% of the total. By contrast, the innovative startups in which it is present at least one non-Italian citizen are 14.9% (2,199).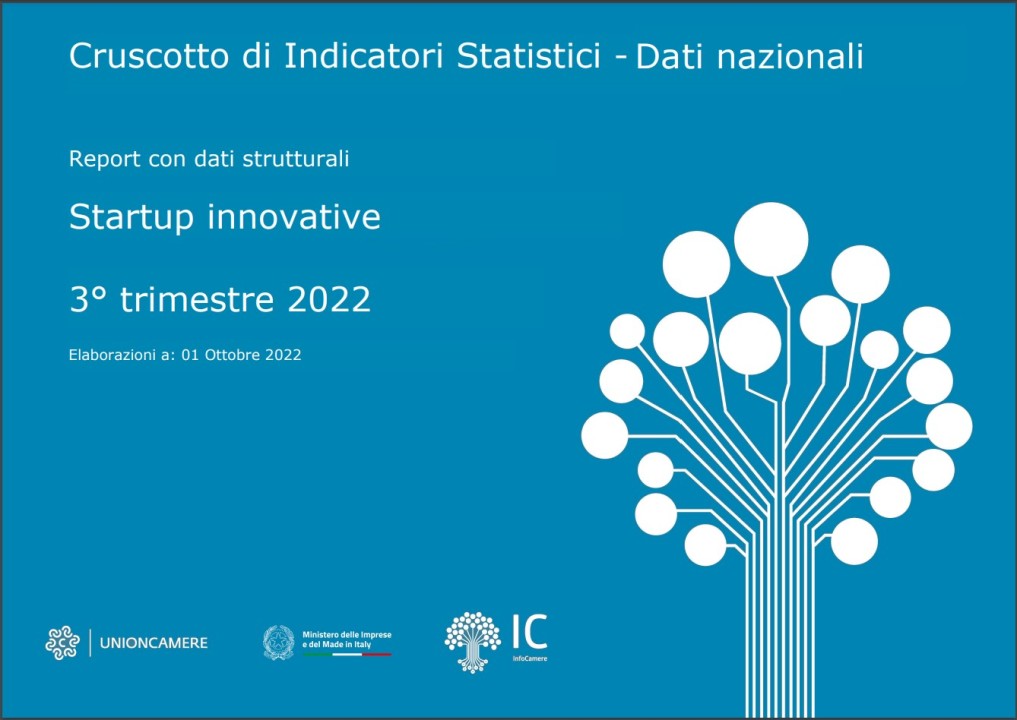 Infocamere 2022 3rd Quarterly Report.
Italian startups regional distribution
Lombardia remains the region where the largest number of innovative startups is located: 3,933, equal to 26.7% of the national total. Followed by Lazio (1,790, 12.2% of the total), Campania with 1,392 startups (9.5%), Emilia-Romagna with 1,093 startups (7.4%). A short distance away appears Veneto (1,084, 7.4% of the national total) in fifth place. Piemonte follows, with 812 (5.5%).
Friuli-Venezia Giulia is the region with the highest incidence of innovative startups in relation to the total number of new capitals with less than five years and five million in annual turnover: about 5.3% are innovative startups. They follow in ranking Trentino-Alto Adige and Basilicata both at 5.2%.
Milan, Lombardia, is by far the province where the highest number of innovative startups are located: at the end of the third quarter 2022 they were 2,787, almost 19% of the national total. In second place Rome, the only other province above thousand (1,619 startups, 11% national).
All the other cities are extremely far apart: in the top-5 there are, in order, Naples (705, 4.8%), Turin (547, 3.7%) and Bari (375, 2.5%). Bologna, Padua, Salerno, Brescia and Bergamo complete the top-10.
Total number of employees
In terms of employment, the total number of employees of innovative startups is 22,297, while the number of innovative startups with employees stands at 6,046 units. This results in an average value of 3.7 employees per innovative startup, and a median value of 2 employees.
Regarding to the statistics relating to the shareholders, as of 1 October 2022 the shareholders of the 14,591 innovative startups (for which this figure is available) is equal to 71,364. Innovative startups are characterized by significantly larger shareholdings than the other new joint stock companies: on average each startup has 4.9 shareholders, against 2.1 among other new businesses.
Italian startup economic and financial indicators
Finally, coming to the economic and financial indicators about 9,762 startups (public data), the average production value per company in 2021 is low more than 211.9k euros, a clear increase compared to the previous quarter (about 47k euros more). Total operating income recorded in 2021 is negative by -125 million euros, with a deterioration of 37 million compared to three months ago.
One of the parameters that most distinguishes innovative startups is their high degree of fixed assets on net assets: in this quarter the ratio is equal to 30%, i.e. more than seven times higher compared to the average ratio recorded for the other new companies, equal to 3.9%.
In 2021, most loss-making companies remained among innovative startups: over 50.3% (a figure down by 2.5 percentage points compared to the previous survey), against the remainder (about 49.7%) which reports a profit for the year. As is physiological for companies with a high technological content, which have longer times of access to the market.
At the same time, ROI and ROE profitability indicators of innovative startups record negative values. The financial independence index of innovative startups is 0.39, lower than that recorded by the other new non-innovative firms (0.46).
For every euro of production, innovative startups generate an average of 23 cents of added value, a slight figure lower than that of the other companies (26 cents). Once again, limiting we to profit-making companies, startups generate more added value on the total value of production than joint-stock companies: 34 cents against 29.